Archive for the 'announcements' Category
… are now online. You can find pictures of the installation and maps that were created here.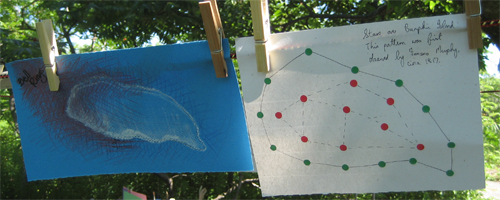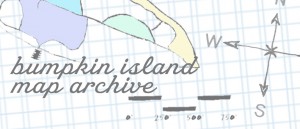 In late July of 2011 the TRAUBENSAFT! Collective will take residency on Bumpkin Island in Boston Harbor, and spend five days using experimental cartography and psychogeography methods and strategies to create a map archive of the island, and a participatory mapping project. This Archive is part of the Berwick Research Institute's Annual Bumpkin Island Art Encampment, produced in cooperation with the Boston Harbor Island Alliance and the MA Department of Conservation and Recreation.
Visitors to Bumpkin during the Encampment may browse the Traubensaft's collection of original, experimental maps of the island, and borrow maps to use on their own explorations. The map archive will also offer visitors use of a "map-making kit", with materials and instructions to create their own maps. These visitor-created maps will be donated/contributed to the Bumpkin Island Map Archive for other visitors to use as they explore the Island. As part of the map making process, physical flags/pins may be placed in the environment (and carry a message or label) by the artists and participant cartographers, which refer to landmarks or symbols recorded on particular maps. The markers will alert users to the project and draw their attention to features of the island that might otherwise be overlooked.
Since Uta lives in Calgary, Canada, and Zannah lives in Brooklyn, NY, this blog is serving as our collaboration platform during the planning stages of the project. So you'll find notes, ideas, lists for logistical planning, sketches, designs, etc. all here…